Happy New Year!
Hello! I hope everyone had a great Christmas and holiday season. For scrappers, the real work of the holiday season begins AFTER the festivities are over.... scrapping all those special holiday moments! LOL! Two of our designers, Dawn (Dawn's Digital Designs) and Janette (Dragon Lair's Designs) have put together two fabulous quick pages to give out as a freebie! Be sure to download the QPs before you leave the blog.
Scrappin Freestyle is ringing in the new year by putting out a call for new designers, more creative team members and putting together a new posting team. If you are a designer looking for a place to sell your designs, you will definietly want to consider applying to the design team. Scrappin Freestyle is a fast growing site, dedicated to helping designers increase their sales and get their name promoted. SFS has a site advertising cooridinator that advertises products, sales, and site events on a daily basis. She advertises in Yahoo Groups, DSW, DSP, and DST. SFS also has a in store creative team that will promote your kits through layouts at various digi sites. Mega kit assignments are given on a rotating basis. If this sounds like the kind of store you are looking to sale in, apply today!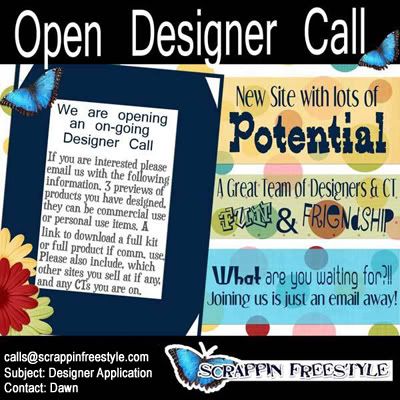 We are also looking for fun, creative ladies to join our creative team! If you would like to get 2 free kits a month, plus the monthly mega kit, apply today!
Scrappin Freestyle is excited to add a posting team to the site! The purpose of the posting team is to create a fun, informational forum for and encourage others to participate in the forum. We are looking for fun, enthusiastic, welcoming ladies that are passionate about digital scrapbooking. SFS will give gift certificate to the store to compensate team members for posting in the SFS Forum, participating is site challenges, and posting in the DST CTM Enabling thread! How exciting is that! Apply today!
Here is the quickpage freebie, enjoy!
Download
HERE